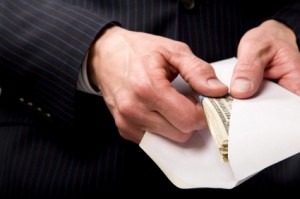 [1]By Steve Neavling
ticklethewire.com
The FBI has pumped up its enforcement of overseas bribes made by U.S. companies to win contracts.
Bloomberg reports [2] the bureau has added 40 lawyers and agents who will sniff out foreign bribes.
Anti-bribery units have begun working to uncover crooked deals in places like Africa, Asia and South America.
"We're trying to leverage" companies into reporting suspected bribes by their workers "because often only they have the ability to get that information," Assistant U.S. Attorney General Leslie Caldwell said in an interview with Bloomberg. "We expect that with new agents and our prosecutors out there," companies "will think significantly about self-reporting."
The FBI is using wiretaps and informants to help infiltrate crooking dealings.
"I'm a big fan of all sorts of tactics, including wiretaps, to build a case," George Khouzami, the assistant special agent in charge of the Federal Bureau of Investigation's New York office, said in an interview. "We've had significant success in recent public corruption cases where it's easy to play the tape and prove the crime. Why wouldn't we take advantage of that now when doing FCPA cases?"