Milestones
By Steve Neavling
ticklethewire.com
Former Bears cornerback Charles Tillman wants to become an FBI agents and recently began training to join the bureau, the Chicago Tribune reports. 
Tillman, 36, retired from football last year after being a member of the 15-1 Panthers team that made it to the Super Bowl in 2015.
FBI guidelines require prospective candidates to be between the ages of 23 and 37. Tillman turns 37 on Feb. 23.
Before the Bears drafted the cornerback in 2003, Tillman received a bachelor's degree in criminal justice from the University of Louisiana-Lafayette.
Print This Post
Posted: 9/20/17 at 9:15 AM under Milestone, News Story.
Tags: charles tillman, FBI agent, football, sports
Comments: none
By Steve Neavling
ticklethewire.com
As the leader of the DEA in El Paso prepares to leave his job for a promotion to lead the Houston Division, he warned that the Mexican cartels are continuing to expand their heroin and meth trafficking business. 
"Every day we try to answer the prayers of those parents who are praying that drugs, violence and crime will pass over their children," Will R. Glaspy said in an interview last week with El Paso Times. 
Glaspy, who served more than three years as the special agent in charge of the DEA's El Paso Division, is scheduled to start working in Houston on Sept. 18.
Glaspy said drug cartels are turning away from marijuana in favor of meth and heroin.
The El Paso Times wrote:
During his time in El Paso, Glaspy said that his agents handled cases such as the arrests of Sinaloa-cartel affiliated drug traffickers in El Paso, Albuquerque meth traffickers and "Operation Crystal Mountain," which targeted meth dealers on the Mescalero Apache Reservation.
The No. 1 priority in the El Paso region is fighting Mexican drug cartels, with the No. 2 priority being "community impact cases" that target local drug-dealing groups, Glaspy said.
DEA agents deal more with border drug-trafficking issues in El Paso, Las Cruces and Alpine, which covers the vast Big Bend area.
"Basically, what we are trying to do is target command-and-control of the Mexican organizations sending the drugs up here," Glaspy said.
Print This Post
Posted: 9/11/17 at 9:11 AM under Milestone, News Story.
Tags: DEA, drug cartels, El Paso, Heroin, Houston, meth, will glaspy
Comments: none
By Steve Neavling
ticklethewire.com
Jeffrey S. Sallet, a 20-year veteran of the FBI, will serve as the new special agent in charge of Chicago's division.
FBI Director Christopher Wray announced the appointed in a news release.
Sallet was most recently the special agent in charge of the New Orleans division. Prior to that, he served as chief of public corruption and civil rights section in the Criminal Investigative Division. His FBI career began in New York.
During his career, Sallet has investigated the Sept. 11 terror attacks, the Boston Marathon bombing and the family boss of Bonanno La Coa Rostra.
Sallet is scheduled to take over the Chicago division in November.
Print This Post
Posted: 8/28/17 at 9:04 AM under Milestone, News Story.
Tags: Chicago, FBI, jeffrey sallet, special agent in charge
Comments: none
By Steve Neavling
ticklethewire.com
Daniel Rachek, who has led Vermont's FBI office for the past six years, is stepping down to become the executive director of the state's lottery commission.
The 22-year veteran of the bureau begins the new job Nov. 13, the Vermont Digger reports. 
Rachek supervised 20 employees and led financial investigation with the FBI.
"I'm honored to join Gov. Scott's team and to maximize the lottery's contributions to Vermont's economic future by supporting education funding," Rachek said in the news release.
The state-run Vermont Lottery Commission oversees the lottery system.
"Danny's extensive public service and financial experience provides a level of expertise and a professional commitment that will set the standard in the lottery's future efforts," Scott said in the announcement.
Print This Post
Posted: 8/24/17 at 9:30 AM under Milestone, News Story.
Tags: daniel rachek, FBI, lottery, Vermont
Comments: none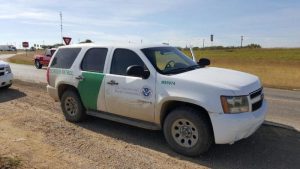 By Steve Neavling
ticklethewire.com
Jaime Salazar, a 25-year veteran of the Border Patrol, was recently appointed agent in charge of the agency's Brownsville station.
Salazar joined the Border Patrol as an agent in June 1992 and has worked his way through the ranks, most recently serving as a strategic advisor to the ICE/ERO deputy director in 2017, the Brownsville Herald reports. 
The Brownsville Border Patrol Station oversees 23 miles of river and 80 square miles of Cameron County.
The Herald wrote:
Salazar became a Border Patrol agent on June 4, 1992 and was assigned to the Chula Vista Station in the San Diego Sector. In 1997, he was promoted to senior patrol agent in Harlingen and subsequently promoted to supervisor in 1998.

In 2002, he was promoted to the PAIC over the Intelligence Unit for the Rio Grande Valley Sector, where in over eight years he transformed the Sector Intelligence Unit. In 2010, Salazar was promoted as the first J2/Intelligence Commander for CBP in Laredo.

In 2013, Salazar became an associate chief in the Law Enforcement Operations Directorate at the United Stated Border Patrol Headquarters in Washington, D.C.

In 2014, he was appointed deputy director for the Department of Homeland Security Human Smuggling Cell, a White House National Security Council Interagency taskforce established to combat international human smuggling efforts. Two years later, he became the acting director for the CBP Counter Network Division charged with integrating operations, intelligence and analysis. He later became a strategic advisor to the ICE/ERO Deputy Director in 2017.
Print This Post
Posted: 8/24/17 at 9:29 AM under Milestone, News Story.
Tags: Agent in Charge, bordet patrol, Brownsville, jaime salazar
Comments: none
By Allan Lengel
ticklethewire.com
F C. Bryan Paarmann, the deputy assistant director in the FBI's International Operations Division, has been named special agent in charge of the Counterterrorism Division for the FBI New York Field Office.
Paarmann joined the FBI in 1996, and was first assigned to the Denver Division, where he worked international terrorism and foreign counterintelligence matters on the Denver Joint Terrorism Task Force, a press release said.
Paarmann has held leadership positions in the Counterterrorism Division as well as in the San Juan Division and the Washington Field Office. He was also the legal attaché in Tbilisi, Georgia and in Kyiv, Ukraine.
He reports for the new job in New York next month.
Print This Post
Posted: 8/22/17 at 5:24 PM under Milestone, News Story.
Comments: none
By Steve Neavling
ticklethewire.com
Michael J. Anderson, the special agent in charge of the FBI's Chicago office, announced Monday that he's retiring at the end of September and will join the private sector.
After joining the FBI in Miami in July 1995, Anderson lead a successful career by combating public corruption and overseeing the investigations of lobbyist Jack Abramoff, former New Orleans Mayor Ray Nagin and Louisiana Congressman William Jefferson, the Chicago Sun-Times reports. 
Anderson was in charge of the Chicago office since October 2015.
Anderson was among a number of special agents who were interviewed to serve as interim FBI director after President Trump fired James Comey.
Anderson will join the private sector in corporate security with Arizona Public Service in Phoenix.
"It was truly an honor and a privilege to lead the tirelessly dedicated and professional men and women of the Chicago Division, a flagship office of the FBI in both national security and criminal law enforcement," Anderson said in a statement.
Print This Post
Posted: 8/22/17 at 10:02 AM under Milestone, News Story.
Tags: Chicago, FBI, Michael Anderson, special agent
Comments: none
By Steve Neavling
ticklethewire.com
Washington veteran Elaine Duke, who is set to become the acting Homeland Security secretary today after a dramatic shakeup, has served in high-ranking positions in three administrations.
Duke, who served as deputy secretary, is expected to become acting secretary today to temporarily replace Homeland Security Secretary John Kelly, a retired four-start Marine Corps general who will become President Trump's chief of staff.
Reince Priebus resigned from the position after the Trump administration made it clear they didn't want him on staff anymore.
Duke has plenty of federal government experience.
Duke has nearly three decades of experience working for the federal government, including time at DHS and the Department of Defense, serving under both Democratic and Republican presidents.

She previously served as under secretary for management and chief procurement for DHS, where she was responsible for managing the agency's $47 billion budget. 

Duke was also the deputy assistant administrator for acquisition at the Transportation Security Administration (TSA), where she delivered a program to meet a new mandate after 9/11 to federalize passenger and baggage screening at U.S. airports
Print This Post
Posted: 7/31/17 at 10:09 AM under Milestone, News Story.
Tags: donald trump, Elaine Duke, Homeland Security, john kelly
Comments: none