By Allan Lengel
ticklethewire.com
Federal authorities on Wednesday announced charges against 10 Mexican members of the Barrio Azteca gang — which operates along the U.S.-Mexico border —  in connection with the March 2010 slayings of a U.S. Consulate employee In Juarez, Mexico, her husband and the husband of another consulate employee.
The members were indicted in Texas in the deaths of Lesley Enriquez Redelfs, 35, who worked for the U.S. Consulate in Juárez, Mexico, her husband, Arthur Redelfs, 34, a detention officer for the Sheriff's Office in El Paso, and Jorge Alberto Ceniceros Salcido, 37, whose wife worked for the U.S. Consulate.
The 10 defendants were among  35 gang leaders,members and associates of the gang charged with a host of crimes including  racketeering, murder, drug offenses, money laundering, and obstruction of justice.  Included in the indictment was  Eduardo Ravelo, who was added to FBI's Ten Most Wanted list in 2009. There is a $100,000 reward for his arrest.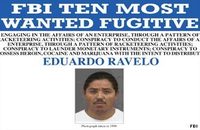 Assistant Attorney General Lanny Bauer said: "Today's charges mark a pivotal moment in our ongoing investigation into the senseless murders of three innocent victims.
"Last March, Leslie Ann Enriquez Catton, Arthur Redelfs and Jorge Alberto Salcido Ceniceros were mercilessly gunned down in Ciudad Juarez. They were – like so many other innocent victims of the Mexican drug wars – caught in the crosshairs of a violent criminal enterprise."
FBI executive assistant director Shawn Henry said at a press conference in Washington: "We may stand on opposite sides of the border, but we stand together on the same side of the law."
Authorities said seven of the the 10 charged in the U.S. Consulate murders, along with two other defendants, are in custody in Mexico.
Authorities said the Barrio Azteca emerged in late 1980s as a prison gang. It has since grown into a major criminal enterprise comprised of about 3500 members, including 600 active members in West Texas and Juarez, Mexico.
The indictment alleges that the Barrio Azteca alligned itself with the Vicente Carrillo-Fuentes (VCF) drug trafficking organization in Mexico and conducts "enforcement operations" against VCF's rivals. It also gets discounts on drugs from the VCF.
Authorities allege that the group is involved in murders in U.S. and Mexico.
OTHER STORIES OF INTEREST