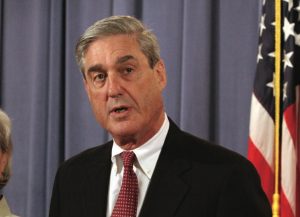 By Allan Lengel
ticklethewire.com
Robert S. Mueller III's report concludes that President Trump nor any of his aides conspired or coordinated with the Russian government's 2016 election interference,  according to a summary of the special counsel's key findings made public on Sunday by Attorney General William P. Barr, the New York Times reports.
"[T]he investigation did not establish that members of the Trump Campaign conspired or coordinated with the Russian government in its election interference activities," Barr's letter stated.
But Barr said Mueller's team drew no conclusions on whether Trump illegally obstructed justice.
"The Special Counsel therefore did not draw a conclusion – one way or the other – as to whether the examined conduct constituted obstruction. Instead, for each of the relevant actions investigated, the report sets out evidence on both sides of the question and leaves unresolved what the Special Counsel views as 'difficult issues' of law and fact concerning whether the President's actions and intent could be viewed as obstruction. The Special Counsel states that "while this report does not conclude that the President committed a crime, it also does not exonerate him."
The response inside the Beltway was predictable.
Republican leaders said Sunday that the report exonerated Trump and it was time to move on. Some Democratic leaders, despite the report, said it was clear the Trump campaign was involved in collusion with the Russians and the president obstructed justice during the investigation.
"After a long look, after a long investigation, after so many people have been so badly hurt, after not looking at the other side, where a lot of bad things happened, a lot of horrible things happened for our country, it was just announced there was no collusion with Russia," Trump said, adding that it was "a complete and total exoneration."
Sen. Lindsey O. Graham (R-S.C.) called the findings a "good day for the rule of law. Great day for President Trump and his team. No collusion and no obstruction. The cloud hanging over President Trump has been removed by this report. Bad day for those hoping the Mueller investigation would take President Trump down."
The Washington Post reports:
Rep. Jerrold Nadler (D-N.Y.), the chairman of the House Judiciary Committee, said in a series of tweets he wanted Barr to quickly testify before Congress to explain what the lawmaker called "very concerning discrepancies and final decision-making at the Justice Department following the Special Counsel report."

Nadler said Mueller "clearly and explicitly is not exonerating the President, and we must hear from . . . Barr about his decision-making and see all the underlying evidence for the American people to know all the facts."
Read William Barr's Letter to Congress