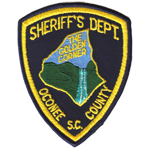 By Allan Lengel
ticklethewire.com
Ex-Secret Service James Richard Bartee, Jr., who protected President George H.W. Bush, has announced that he's running for sheriff in Oconee County, S.C. in the Republican primary, the Independent Mail reported.
The paper, which described Bartee as a "54-year-old private investigator and aikido dojo owner" quoted him as saying:
"I decided to make this race because with my background and experience I believe I'm the best candidate."
Bartee, a Virginia native, has been living in Oconee County since 2000 after he retired from the Secret Service. He was with the agency for 25 year including time as a clerk.