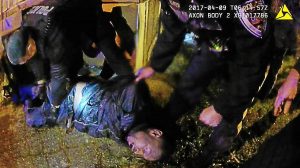 By Steve Neavling
ticklethewire.com
The FBI arrested a Trenton police officer as part of an excessive force investigation involving several alleged victims.
Officer Drew Inman was arrested at gunpoint at his hime at 6 a.m., "terrorizing" his wife and children, the officer's attorney Jerome Ballarotto told the Trentonian.
The FBI also is investigating a former and current officer who was involved in the arrest.
This isn't the first time Inman has been accused of using excessive force. After repeated allegations, he was fired last summer. Three excessive force lawsuits have been filed against him and the department.
Inman and another former officer, Anthony Villanueva, have been charged in a six-count indictment filed in U.S. District Court in Trenton last week. They've been chased with deprivation of civil rights under color of law and falsifying police records.
They face up to 20 years behind bars.
One of the cases involves the April 2017 arrest of Chanzie Washington, who was pummeled by cops.