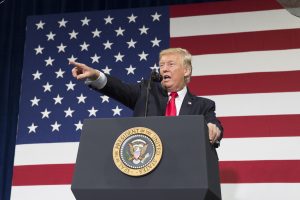 By Steve Neavling
ticklethewire.com
The House Intelligence Committee publicly released a disputed, Republican-drafted memo on Friday that claims the FBI and Justice Department abused their authority to spy on former Trump campaign adviser, Carter Page, who was suspected of being a Russian agent.
The unprecedented and controversial release of the memo was approved today by President Trump, setting off a political firestorm after he and his Republican allies ignored strong objections from the FBI and DOJ to keep the document classified.
The memo takes aim at what Republicans say is a glaring, suspicious omission in the application for a warrant to wire tap Page. Intelligence officials never mentioned in the application that some of the evidence relies on information by former British spy Christopher Steele, who was financed by the Democratic National Committee and lawyers for Hillary Clinton's campaign to investigate ties between Trump's campaign and Russia.
Trump and some of his allies claim the memo supports their repeated assertions that the FBI and DOJ harbor an anti-Trump bias that taints the special counsel investigation that is now focusing on whether the president obstructed justice by interfering wth the nine-month probe. Four former Trump aides have beeb indicted so far as part of the Robert Mueller investigation.
"The Committee has discovered serious violations of the public trust, and the American people have a right to know when officials in crucial institutions are abusing their authority for political purposes," House Intelligence Committee Chairman Devin Nunes said in a statement. 
The memo claims the allegations of surveillance abuse "raise concerns with the legitimacy and legality of certain DOJ and FBI interactions with the Foreign Intelligence Surveillance Court."
In a rare move, the FBI on Wednesday released a statement expressing "grave concerns about material omissions of fact that fundamentally impact the memo's accuracy."
Democrats slammed the memo as a partisan, misleading campaign to undermine confidence in the special counsel investigation, which could determine the fate of Trump's presidency. Democrats also pointed out that the memo fails to provide evidence to cast doubt on the Mueller probe.