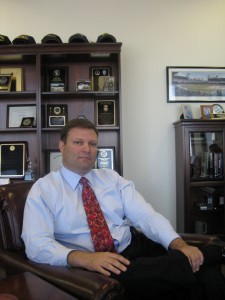 By Allan Lengel
ticklethewire.com
Andrew Arena, the head of the Detroit FBI, said Tuesday that other mainstream militias have distanced themselves from the nine members of the Christian militia in the Midwest who were indicted for plotting to kill law enforcement members.
"I honestly think they don't believe the same things this group does," Arena told  ticklethewire.com. "I think they were appalled."
In fact, there were media reports that  a mainstream militia member went to the FBI after the Christian group came to him for help.
"It's true, he did," Arena said.
Arena said he didn't believe the Michigan-based Christian militia Hutaree is a very big organization. He said different   people have  trained and met with them, and some have come and gone.
"We don't have evidence they also crossed the line," he said.
He said the FBI felt it needed to step in and bust up the group before the members took the plan to the  next stage.
"We couldn't let it get to that point," he said.
"I think this is a good example of what I've been driving home," he said. "Terrorism has many different faces from all walks of life."
He declined to comment on a report that the FBI had an agent working undercover with the group. He also declined to say whether any of the defendants had agreed to cooperate, though he added: "Hopefully they will."