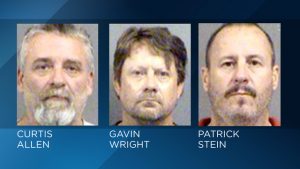 By Steve Neavling
ticklethewire.com
The anti-Muslim militia group in Kansas that is accused of conspiring to bomb an apartment where 120 Somali immigrants lived was exposed when one of its members contacted the FBI.
The member of the group, "The Crusaders," was alarmed by talks of violence and agreed to become a confidential source for the FBI, CBS News reports. 
Three militia members were charged with conspiring to detonate truck bomb at the apartment complex in Garden City.
Patrick Stein, 47; Gavin Wright, 51; and Curtis Allen, 49, have been charged with conspiring to use a weapon of mass destruction.
Thanks to the informant, the FBI was able to monitor the group for months as the plot became more specific. The informant introduced an undercover FBI agent to the group.