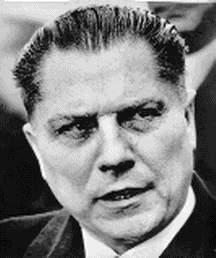 Steve Neavling
ticklethewire.com
 Was Teamsters boss Jimmy Hoffa buried in a driveway of suburban Detroit? Not likely.
Tests of soil samples may answer that question this morning when results return from a Michigan State University forensic anthropologist, reports the Detroit Free Press.The analysis involves 4-inch samples of mud and clay and is designed to show whether human remains are present, the Free Press reported.
A tipster said a former suspect in Hoffa's disappearance was up all night pouring concrete at the location on the day Hoffa disappeared in 1975. Initial conclusions are that Hoffa is not there.
The FBI was skeptical of the tip.