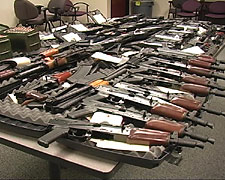 Steve Neavling
ticklethewire.com
The FBI and DEA have stepped in to help investigate weapons cases after federal prosecutors in Nevada stopped working with the ATF, the Reno Gazette-Journal reports.
But the newspaper said neither agency is probing firearm sales or trafficking cases, leaving the state with little protection.
Gun data obtained by the Gazette-Journal shows that fewer illegal firearms were recovered last year.
In an unusual move, the U.S. Attorney's Office in Reno said it would not prosecute ATF cases until unidentified problems are resolved.
So ATF agents left the Reno office because they couldn't get cases prosecuted, the Gazette-Journal reported.