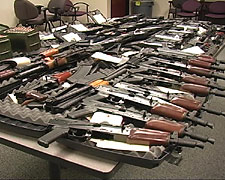 By Jonathan H. Adler
Washington Post
Today the White House announced a series of executive branch actions(not executive orders) that are supposed to reduce the threat of gun violence. Chief among these measures is a new guidance from the Bureau of Alcohol, Tobacco, Firearms and Explosives (ATF) concerning when those who sell guns are required to obtain a federal license and perform background checks of prospective gun purchasers. The ATF is also finalizing a regulation that would prevent prospective gun purchasers from avoiding background checks by acquiring guns through a trust or corporation, but this is a separate measure.
According to the White House, the new ATF guidance is intended "to ensure that anyone who is 'engaged in the business' of selling firearms is licensed and conducts background checks on their customers." The ATF is achieving this not by issuing new regulations (re)defining what it means to be "engaged in the business" of selling guns under federal law. Instead, the ATF issued a guidance document that simply explicates what this legal requirement means, providing examples of the sorts of things that would indicate that a given individual is in the gun business, rather than conducting the occasional personal sale as a hobbyist or as part of an estate liquidation, or something of that sort. According to both the White House release and the ATF guidance, the various indicia identified in the guidance are, in turn, based upon what federal courts have found in relevant cases. (The relevant court decisions are not cited or otherwise identified in the document, and I have asked both ATF and the White House for more information on this point.)
Taken at face value, the new ATF guidance is thus nothing more than a restatement of existing legal requirements. Put another way, it merely identifies those who are already subject to the relevant federal requirements and does not in any way expand the universe of those gun sellers who are required to obtain a license and perform background checks. In other words, it is — as the document says — a guidance, and not a substantive rule. It has no legal effect.
If the ATF guidelines are nothing more than a guidance — an indication of the sorts of things that might trigger a federal investigation or prosecution, but not a tightening of the relevant legal standard — why would the administration do this? There are several potential answers. First, guidance documents are often useful insofar as they explicate relevant legal standards and (as the name implies) provide guidance to the regulated community. Such documents can help people know when they are subject to specific legal requirements. Further, if there are a significant number of people who should have federal gun licenses but have neglected to obtain them, the guidance document might encourage greater compliance with federal law.
For more information click here.
Other Stories of Interest