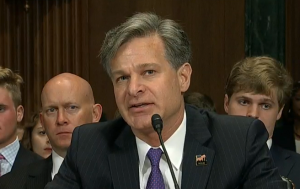 By Allan Lengel
ticklethewire.com
Is transparency best in this case or simply dangerous?
Mark Mazzetti of the New York Times reports:
The White House has rebuffed concerns among American intelligence and law enforcement officials and ordered that more lawmakers be given access to classified information about an informant the F.B.I. used in 2016 to investigate possible ties between the Trump campaign and Russia, according to two American officials with knowledge of the decision.

Both the director of national intelligence and the director of the F.B.I. tried to keep the classified documents tightly restricted, fearing that a broader dissemination of operational reports and other sensitive material could lead to more leaks of detailed information about the role of the confidential F.B.I. informant.

Some American officials believe, in fact, the reason the White House made the decision was to provide political ammunition to President Trump's Republican allies who have argued — without any evidence — that the F.B.I. investigation was opened in July 2016 as an effort to keep Mr. Trump from becoming president.