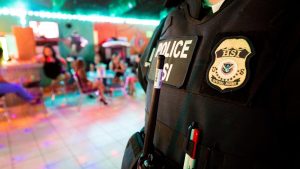 By Steve Neavling
Ticklethewire.com
An ICE detainee on Tuesday night escaped from custody at JFK airport and fled in a taxi, officials said.
The detainee eluded custody while being transferred to another flight at the airport.
It wasn't immediately clear how he managed to break loose.
Surveillance footage shows the man hopping into a taxi and fleeing.
Airport passengers are not in danger, officials said.
ICE declined to comment early Wednesday morning.
Posted: March 28th, 2018 under News Story.
Tags: escaped, ICE, immigration, JFK airport
Comments: none