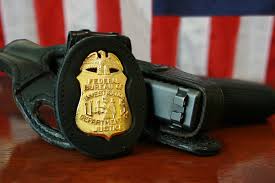 By Steve Neavling
ticklethewire.com
The FBI is one of the few federal agencies that could benefit from President Trump's proposed budget.
Under the budget proposal, Trump's administration recommends a $61 million increase for the FBI and Justice Department to improve tracking terrorist communications and combat cybercriminals, FedScoop reports.
"The FBI would devote resources toward its world-class cadre of special agents and intelligence analysts, as well as invest $61 million more to fight terrorism and combat foreign intelligence and cyber threats and address public safety and national security risks that result from malicious actors' use of encrypted products and services," the budget blueprint states.
Trump's proposed budget would increase the FBI's overall funding by $249 million, or 3%.
Posted: March 17th, 2017 under News Story.
Tags: Budget, donald trump, FBI, Justice Department
Comments: none