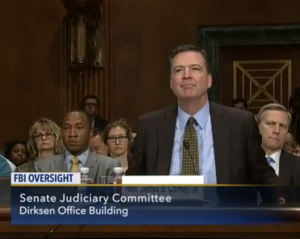 By Steve Neavling
ticklethewire.com
When fired FBI director James Comey sits down in front of the microphone today, he will be bombarded by questions from the Senate Intelligence Committee as the nation watches.
Here are some of likely questions:
1. Do you believe President Trump obstructed justice when he asked you to "let go" of the investigation into former national security adviser Michael Flynn?
2. Do you believe your termination hampered any ongoing investigations into possible collusion between Trump's campaign team and Russia?
3. Did you feel threatened when Trump appeared to suggest he would release recordings of you if you talked about your meeting with him?
4. Do you believe the Russian investigation played a role in Trump firing you?
5. Has anyone else in the Trump administration suggested you should end any Russia investigation?
6. Did Trump ever pressure you to drop investigations that were not involving Russia?
7. Did any other members of Trump's administration try to influence your Russia investigation.
8. You had an awkward handshake with Trump in January. Do you believe he was sincerely trying to compromise?
9. Since Robert Mueller was appointed special counsel, have you met with him or discussed this hearing?
10. Would you support Christopher Wray, Trump's nominee for the top FBI spot?