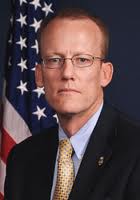 By Allan Lengel
ticklethewire.com
ATF official William Newell, who frustrated Congressional committee members and angered fellow agents with his ambivalent and less than forthright Congressional testimony in July on the controversial Operation Fast and Furious, now admits his testimony "lacked clarity", Fox News reports.
Newell, who headed up ATF's Phoenix office during Operation Fast and Furious, acknowledged in a 12-page document to the House Government Reform and Oversight Committee, that his testimony could have been better and offered new insight into his mistakes about the probe that encouraged gun dealers to sell to straw purchasers, all with the hopes of tracing the weapons to the Mexican cartels, Fox reported.
"After taking time to reflect and review my testimony from the hearing on July 26, 2011, I realize I could have given clearer, more complete and more direct responses to some questions," wrote Newell, who is now stationed at ATF headquarters in Washington.
"With 20/20 hindsight, I now see that I should have conducted more frequent assessments," Newell said in his filing. "With more regular assessments I could have articulated to my staff the need to be proactive in ascertaining the quantity of guns being purchased that we were not able to intercept."
Newell's less than forthright testimony angered fellow agents around the country.
A source told ticklethewire.com back in August that the Congressional committee was looking into the possibility of going after Newell for perjury after his July testimony.
To read more click here.