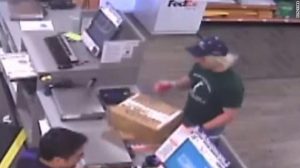 By Steve Neavling
Ticklethewire.com
The Austin serial bomber who terrorized the Texas capital in a spate of explosions that killed two people and wounded five others described himself in a cell phone recording as a "psychopath" who felt no remorse.
"I was I were sorry but I am not," Mark Conditt said in a recording found on his cell phone after he blew himself up with a bomb early Wednesday morning, the Austin Statesman reports, citing sources familiar with the so-called "confession."
The 23-year-old, who said he's been disturbed since childhood, pledged to blow himself up if authorities closed in on him.
The 28-minute recording, which police have declined to release because they're using it as evidence, offered no clues about Conditt's motives or how he chose his victims.
Authorities suspect there were more recordings stored on his laptop, which was destroyed in the explosion.
In the recording, Conditt said he regretted going into a FedEx store in suburban Austin to mail two homemade bombs because he and his red pickup truck were captured on surveillance videos, which helped authorities identify him.
Police believe the recording was made at about 9 p.m. Tuesday, about five hours before police tracked him down behind a motel in suburban Austin.