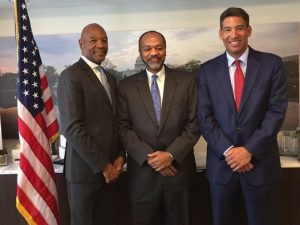 By Allan Lengel
ticklethewire.com
Barnes & Thornburg, based in Indianapolis, is the first major law firm to have three former U. S. Attorneys  as partners who are African American.  The firm has 13 offices and is among the 100 largest in the U.S.
The former U.S. Attorneys include Mike Battle, who served in the Western District of New York (Buffalo) under President George W. Bush; Roscoe Howard who served in D.C. under Bush and Patrick Miles, who served in the the Western District of Michigan (Grand Rapids) under President Barack Obama.
Howard and Battle work in the D.C. office and Miles is based in Grand Rapids.