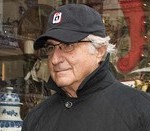 The civil case may be settled, but many are still waiting for the criminal case and for Bernie Madoff to head off to prison.
By CBS and Associated Press
The Securities and Exchange Commission on Monday announced an agreement with disgraced money manager Bernard Madoff that could eventually force him to pay a civil fine and return money raised from investors.
The partial judgment must be approved by the judge overseeing the Madoff case in federal court in Manhattan.
The civil proceeding is separate from the criminal case against the prominent Wall Street figure, who is accused of bilking $50 billion from investors in what may be the largest Ponzi scheme in history. Madoff was arrested in December after allegedly confessing to his sons that he had stolen from investors for years.
Federal prosecutors have asked a judge to revoke the bail of Madoff, who has been confined to his Manhattan penthouse under house arrest. Madoff, who has not been indicted, is widely expected to eventually enter into a criminal plea deal with prosecutors.