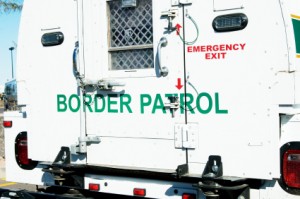 By Allan Lengel
ticklethewire.com
A U.S. Border Patrol agent in Arizona pleaded guilty Friday in federal court in Tucson to assaulting a Mexican National in his custody, the Justice Department said.
Agent Eduardo Moreno admitted that on May 10, 2006, while on duty at the U.S. Border Patrol Processing Center in Nogales, Ariz., he kicked the man, struck him in the stomach with a baton, threw him down to ground and punched him without justification, authorities said.
"We place a great deal of trust in federal law enforcement officers, and the Civil Rights Division will aggressively prosecute any officer who violates the rights of others and abuses the power they are given to perform their critical duties,"  Thomas E. Perez, Assistant Attorney General for the Civil Rights Division, said in a statement.
Sentencing was set for Aug. 12. He faces up to 10 years in prison and a fine of $250,000.
Under the plea agreement, authorities agreed to drop the charge that he made a false statement to federal agents.