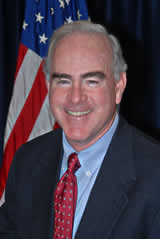 By Allan Lengel ticklethewire.com
WASHINGTON — Politics can be a little tricky, and tricky it may be for three ex-Bush-appointed U.S. Attorney's who are running as Republicans for Congress.
The Washington Post's Paul Kane reports that the three U.S. Attorneys are "running in districts held by Democrats, the GOP candidates are betting that their prosecutions in cases ranging from illegal immigration to local corruption will trump questions about their connections to the Bush White House."
"You're wearing the white hat, protecting people and seeing justice done," Patrick Meehan, a former U.S. attorney for southeastern Pennsylvania, told the Post in explaining the appeal of ex-federal prosecutors.
Besides, Meehan, the other two candidates are Thomas Marino, an ex-U.S. attorney for northeastern Pennsylvania, and Timothy Griffin, an ex-interim U.S. attorney in Little Rock.
The Democrats are calling them "Bush retreads", the Post reported.
"Middle-class families will reject these Washington-insider Republican candidates for representing a return to the failed Bush agenda, and they won't be able to hide from their dirty records," Democratic Congressional Campaign Committee spokesman Ryan Rudominer told the Post.
To read more click here.