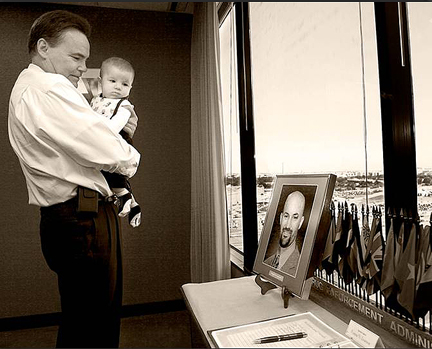 By Allan Lengel ticklethewire.com
WASHINGTON — The DEA on Tuesday released a touching photo taken last September which showed its Chief of Operations Thomas Harrigan holding a baby of Forrest Leamon, one of three DEA agents killed in a U.S. military helicopter crash on Oct. 26, 2009.
The baby, Luke Leamon,  was born on April 8, 2010, about five months after his father's death.
The photo (on the right) which also shows agent Leamon, was one of several pictures posted on the agency's website Tuesday as part of a slide show on "The DEA 2010 Year in Photos."
The helicopter agent Leamon crashed while returning from a joint counternarcotics mission in western Afghanistan, the DEA said. The other agents killed in the crash included Chad L. Michael and Michael E. Weston.
Leamon, 37, became a DEA agent in 2002 and served at the Washington Field Division and in the El Paso Field Division until 2007, when he joined the FAST team (Foreign-deployed Advisory and Support Teams) in Afghanistan.