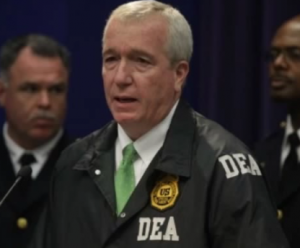 By Allan Lengel
ticklethewire.com
John "Jack" Riley,  the DEA's acting deputy administrator, has been named ticklethewire.com's Fed of the Year for 2015.
Riley, a native of Chicago with more than 25 years of drug law enforcement experience, was appointed the acting second-in-command of the DEA in April as the top administrator, Michele Leonhart, was stepping down.
Riley has stepped into a top leadership role — no easy task — and deserves  credit for working on getting the agency back on track, while providing guidance to the new interim director, an outsider from the FBI, Chuck Rosenberg.  Along the way, he's made some tough decisions, which hasn't pleased everyone inside the DEA.
The grandson of a Chicago cop, he headed up the Chicago and El Paso field offices, and has spent years investigating the Mexican cartels and the trafficking of heroin and cocaine across the southern border.
The man is old school. He's got it out for Mexican drug lord  Joaquin "El Chapo" Guzman, chief of the murderous Sinaloa Cartel, who escaped from a Mexican prison earlier this year. Riley was once the target of an assassination plot by El Chapo's operatives.
"Just so you know, I was going to retire — until this dick escaped," Riley told Yahoo! News in September, adding:  "I'm in it for the long haul."
Previous recipients of the ticklethewire.com Fed of the Year award include: Former Chicago U.S. Attorney Patrick Fitzgerald (2008):   Warren Bamford, who headed the Boston FBI (2009), Joseph Evans, regional director for the DEA's North and Central Americas Region in Mexico City (2010);  Thomas Brandon, deputy Director of ATF (2011); John G. Perren, who was assistant director of WMD (Weapons of Mass Destruction) Directorate (2012); David Bowdich, special agent in charge of counterterrorism in Los Angeles (2013);  and Attorney General Loretta Lynch, who was U.S. Attorney in Brooklyn at the time (2014).