Treatment of detainees at Immigration and Customs Enforcement facilities has been an issue some insist needs to be resolved now. Will the death of Guido Newbrough force authorities to take a harder look at the issue? That remains to be seen.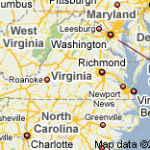 By Nick Miroff
Washington Post Staff Writer
One morning last November, Prince William County resident Guido Newbrough woke up in crippling pain at Piedmont Regional Jail, 150 miles south of the District. Delirious and unable to walk, he asked fellow inmates to bring him ice. They began pounding on the doors to summon guards.
Among the mostly Central American and African inmates who slept on the triple-stacked bunk beds of Piedmont's dormlike holding cells, Newbrough, 48, was an unusual case. He was born in Germany but raised in Prince William and had lived in Virginia since age 6. But a 2003 conviction for aggravated sexual battery made him eligible for deportation, and Immigration and Customs Enforcement arrested him in February.
Newbrough had been at Piedmont for nine months when he began complaining of sharp pain in his abdomen and back.
For Full Story