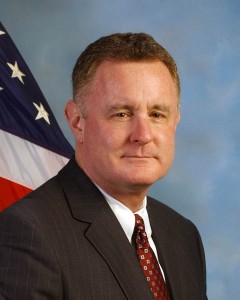 By Allan Lengel
ticklethewire.com
It's adios for Don Oswald after a short stint as head of the FBI in Minneapolis.
Oswald ,53, tells the Associated Press that he's retiring to practice practice law. He eventually wants to become a judge. He was assigned to the job last May.
"I really would like to pursue that other career option, so I made a personal decision that I was going to close the bureau chapter and move on," Oswald said. "I don't know how it will unfold."
The office covers Minnesota, North Dakota and South Dakota.
Oswald joined the FBI in 1992 and first served in the Los Angeles Division where he investigated bank robberies and street gang activities and also served as a division legal adviser, the FBI said.
Two years later, he was off to new York, where he investigated complex multi-agency public corruption cases. He also served for more than three years as associate division counsel in the New York Division.
In February 2000, he became a supervisory special agent in the Office of the General Counsel at FBI Headquarters. He was assigned to the Investigative Law Unit.
In July 2003, he headed south to the Miami Division as a field supervisor for the South Florida Joint Terrorism Task Force squad.
A little more than two years later, he became assistant special agent in charge of the Miami Division's Field Intelligence Group.
In December 2008, he was promoted into the FBI's senior executive service in the Inspection Division.
Mr. Oswald was born in Brick Township, New Jersey. He served in the U.S. Air Force and New Jersey Air National Guard and received his Bachelor of Science degree in criminal justice from Trenton State College in New Jersey. Later, he earned a Juris Doctor degree from Nova University Law School and became a member of the Florida bar.
Before joining the FBI, he served as a police officer and detective in Brick Township, N.J., and as a deputy sheriff and detective in Broward County, Fla.
After law school school, he practiced law and was appointed as a traffic magistrate for Broward County, where he presided in traffic court, the FBI said.