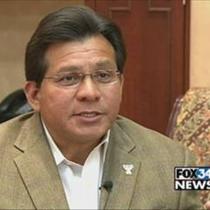 By Allan Lengel
ticklethewire.com
Ex-U.S. Attorney Alberto Gonzales is cashing in on his name.
The Texas company Drexel Metals Inc., a provider of standing seam metal roofing systems, announced Monday that Gonzales has joined its board of  directors.
"I have enjoyed working with Al while he served as a valuable consultant that helped Drexel Metals establish itself in Texas and better service the Hispanic community," said CEO Rob Waite in a statement.
"With his significant contribution to Drexel Metals, it made sense to invite Al to join our board and we are very pleased he accepted our offer."
Gonzales, the former Attorney General under President Bush, is a visiting professor at Texas Tech University and is president of Alberto R. Gonzales, P.C., a provider of consulting, arbitration, and mediation services.