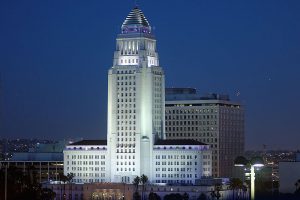 By Steve Neavling
ticklethewire.com
FBI agents raided Los Angeles' city hall and a public utility agency Monday amid a sweeping federal investigation into public corruption.
Agents served search warrants at city hall and the Department of Water and Power (LADWP) on Monday morning, The Los Angeles Times reports.
The search warrants were under a sealed affidavit, and federal authorities declined to comment on the nature of the investigation.
No one was arrested as of Monday night.
The raid comes amid a sweep FBI investigation into city hall that involved foreign investments in Los Aneles real estate. Two councilmen and other high-level officials have been named in that investigation.
"We were notified earlier this morning that federal search warrants were being executed today," a spokesman for LA Mayor Eric Garcetti said in a statement. "The mayor's expectation is that any city employee who is asked to cooperate will do so fully and immediately."