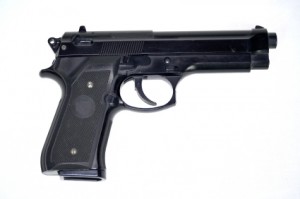 By Allan Lengel
ticklethewire.com
The FBI is going all out to retrieve weapons and equipment stolen from an agent's car in the northwest sector of Indianapolis earlier in the week.
Michael S. Welch, special agent in charge of the Indianapolis office, announced that the bureau was offering a reward of up to $5,000 for information leading to the identification and arrest of those responsible for the theft of three stolen weapons: H&K MP5/10A3 10 mm gun, a Rock River Arms LAR15 rifle and a Springfield 1911A1 .45 caliber handgun.
Additionally, thieves made off with a large green duffel-style gear bag that contained an FBI SWAT uniform and two sets of body armor, the FBI said.
According to the FBI, the theft took place between the evening hours of Sept. 16 and the early morning of Sept. 17 when burglars went on a spree, breaking into 10 other vehicles or homes.
The Associated Press originally reported that the guns were stolen from the agent's home.