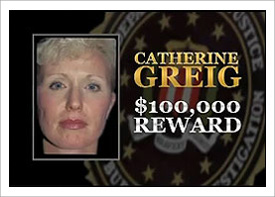 By Allan Lengel
ticklethewire.com
The FBI isn't giving up on finding the ever-elusive Top 10 fugitive, Boston mobster James "Whitey" Bulger, who is wanted for 19 murders.
The latest: the FBI is launching what it calls a "unique new publicity campaign" by focusing on Catherine Elizabeth Greig, the longtime girlfriend of Bulger. She has not been charged in his crimes, but is a federal fugitive wanted for harboring Bulger.
The campaign includes a 30-second, FBI- produced  public service announcement (PSA) that will begin airing Tuesday on  TV stations around the country. The announcement will hone in on  Greig's relationship with Bulger and her physical characteristics.
The FBI said it purchased about 350 time slots in media markets in 14 cities in 10 states. The cities are Albuquerque, Biloxi, MS; Boston, Chicago,Ft. Myers, Miami, Milwaukee, Mobile, AL; New Orleans, Phoenix, San Diego, San Francisco, Tampa, and Tucson.
"The FBI believes that publicizing Catherine Grieg's photo and characteristics among her contemporaries will lead to a tip about her whereabouts and, ultimately, to the arrest of Bulger,"  Richard DesLauriers, head of the  Boston Division, said in a statement.
The FBI said the PSA  announcement will air during shows that have a high percentage of female viewers in the same age group as 60-year-old Greig.
The FBI said it homes someone in that audience — a friend, co-worker, neighbor, hair stylist, manicurist, doctor or dentist —  might recognize Greig.
"In terms of publicity, for 100 years the FBI has known that combining the reach and power of the media with alert citizens is a successful formula for catching fugitives,"  FBI  Supervisory Special Agent Richard Teahan, who leads the Boston FBI task force searching for Bulger, said in a statement.  "So we're taking the next logical step and focusing on Greig as part of a unique initiative."
The PSA points out that there is more than 21-year age difference between Greig and Bulger, who is 81.
The FBI said some tibits about her include: she loves dogs and all kinds of animals; she is likely to have well-kept teeth because she previously worked as a dental hygienist; she likes to frequent beauty salons and prior to fleeing with Bulger in 1995, she had multiple plastic surgeries.
Authorities said she has blue eyes, is 5 feet 6 inches tall, and had a thin build when she fled.
She is known to go by the aliases Helen Marshal and Carol Shapeton.
The FBI said the last credible sighting of the couple was in London in 2002.
The FBI is offering a $100,000 reward for information leading to her capture and $2 million for Bulger's arrest.
httpv://www.youtube.com/watch?v=bHksLNSM9HI&feature=player_embedded#at=11