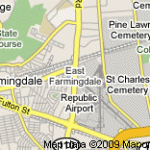 When you don't succeed, dig dig again. Yes, the FBI is returning to East Farmingdale to dig again for mobster bodies. The FBI went digging at the site last year after getting information that the land was used as a mobster burial site. Agents ended up unearthing the body of Colombo family underboss William Cutolo.
BY ROBERT E. KESSLER
Newsday
FBI agents plan to return to an apparent mob cemetery in East Farmingdale on Monday to try to uncover two more bodies they believe were buried there by hit men, an FBI spokesman said late Friday.
The renewed excavation plans come after two leaders of the Colombo organized crime family were sentenced Friday to life in prison for the murder of a rival whose body was uncovered there in October.
Alphonse Persico, the acting boss of the Colombo family, and John DeRoss, a ranking capo, showed no emotion as federal Judge Joanna Seybert in Central Islip sentenced them for the 1999 murder of William Cutolo, once the family's underboss.
Prosecutors said Persico and DeRoss had Cutolo murdered, because they feared he would take over.