It took a couple tries, but federal prosecutors this time emerged victorious.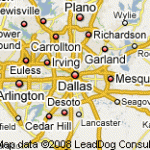 By Jason Trahan and Tanya Eiserer
The Dallas Morning News
DALLAS — After more than 15 years of investigation and two trials, the Holy Land Foundation and five of its former organizers were found guilty of illegally funneling more than $12 million to the Palestinian terrorist group Hamas.
The verdicts by a Dallas federal jury are a significant victory for the Justice Department, which streamlined its case after a mistrial last year and worked hard to carefully educate jurors on the complex evidence presented in the massive case.
Guilty verdicts were read on 108 separate charges.
The verdicts are a major triumph for the outgoing administration of President George W. Bush, whose efforts at fighting terrorism financing have been troubled. Two other similar high-profile prosecutions targeting supporters of Palestinian militants have ended in acquittals, deadlocked juries or convictions on lesser charges.
"Today's verdicts are important milestones in America's efforts against financiers of terrorism," Patrick Rowan, assistant attorney general for national security, said in a prepared statement.