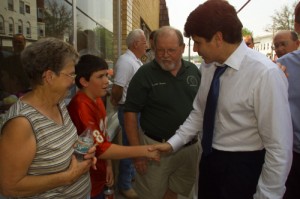 By Allan Lengel
ticklethewire.com
If TV ratings is the real goal, President Donald Trump is killing it.
Trump indicated Thursday he's considering pardoning for TV personality Martha Stewart and commuting the sentence of former Illinois Gov. Rod Blagojevich, who is serving 14 years for public corruption.
Trump also said Thursday that he would offer a full pardon to conservative pundit Dinesh D'Souza, who pleaded guilty in 2014 to violating federal campaign finance laws but later said he was targeted for his conservative views, the Washington Post reports. He was sentenced to five years of probation, including eight months living under supervision in a "community confinement center" in San Diego, and a $30,000 fine.
Stewart was found guilty in March 2004  of conspiracy, obstruction of an agency proceeding and making false statements to investigators. She was sentenced in July 2004 to five-months in a federal correctional facility and a two-year period o of supervised release.
Will be giving a Full Pardon to Dinesh D'Souza today. He was treated very unfairly by our government!

— Donald J. Trump (@realDonaldTrump) May 31, 2018