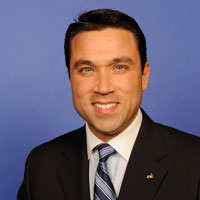 Steve Neavling
ticklethewire.com
The Justice Department is leading an investigation to determine if Rep. Michael Grimm, R-N.Y., a former FBI agent, violated the law when he solicited campaign cash from foreign nationals in exchange for helping an Israeli obtain a green card, USA Today reports.
The House Ethics Committee voted unanimously to hand the probe over to the Justice Department to investigate.
Grimm, of Staten Island, referred questions to his attorney, William McGinley.
"We appreciate the committee's decision to defer consideration of this matter while we continue to work with the Department of Justice to favorably resolve the false allegations against Congressman Grimm," McGinley said in a statement. "Any fair and objective review of all of the facts in this matter will conclude that Congressman Grimm engaged in no wrongdoing. We are confident that the Department of Justice and the Ethics Committee will reach that result."