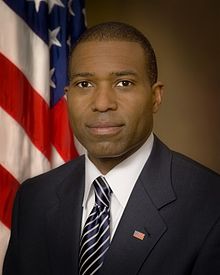 By Steve Neavling
ticklethewire.com
Wall Street won't be sad to see Tony West go.
The highest-ranking prosecutor who gained more than $30 billion in settlements from Wall Street banks plans to leave the public sector, the New York Times reports.
West, who is the No. 3 Justice Department officials, plans to leave Sept. 15.
The New York Times reports that West is headed to the private sector, but it wasn't immediately clear what he'll be doing.
West, 49, hired Robert B. Barnett, a career counselor with a remarkable client list that includes President Clinton and Bob Woodward, to help him land a job.
"Over the years, Tony's efforts have made a tremendous and lasting difference in the lives of millions of people across the country," Mr. Holder said in a statement. "And although I wish him the best as he opens an exciting new chapter in his career, I will miss his leadership, his many contributions, and his steadfast commitment to the cause of justice."