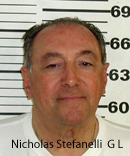 By Allan Lengel
ticklethewire.com
Being a snitch in the mob ain't so easy on the conscience. And of course, it also involves a lot of looking over your shoulder.
Mob expert Jerry Capeci of Gang Land News reports that 69-year-old Nicholas (Nicky Skins) Stefanelli, a Gambino familiy wiseguy, killed himself about two weeks ago after wearing an FBI wire for two years. His undercover work had ended and the feds were about to prep  him for the witness stand, Gang Land reported.
Gang Land reports that Stefanelli took care of some business before he offed himself.
He allegedly killed a businessman in Bloomfield, N.J. he felt was responsible for his legal troubles "that caused the gangster to become a stool pigeon."
Gang Land News writes: "The tragic, remarkable story of violence and betrayal played out in the Garden State over the last two weeks but has been kept deep under wraps by the feds. Law enforcement sources say Stefanelli's suicide has severely undermined what had been a successful undercover probe of mobsters and drug dealers in New York, New Jersey and four other states."
To see the Gang Land Site click here.