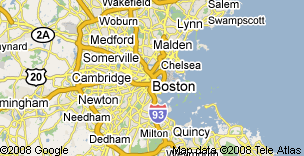 In mob circles, he was known as the "The Cheese Man". In mob circles and in law enforcement circles, he was known as a big cheese; he was the underboss of the New England mob.
By Shelley Murphy
Boston Globe
BOSTON — Reputed New England Mafia underboss Carmen "The Cheese Man" DiNunzio has cut a plea deal with state and federal authorities that will send him to prison for six years for bribery, extortion, and illegal gambling, according to his lawyer.
The 51-year-old DiNunzio is expected to plead guilty this afternoon in US District Court in Boston to charges that he tried to bribe an undercover FBI agent posing as a corrupt highway inspector in fall 2006 in a bid to secure a $6 million contract to provide loam, a soil mix, to the Big Dig.
As part of a sweeping plea deal, he is scheduled to appear in Essex Superior Court in Salem next Wednesday and plead guilty to state charges of extorting bookmakers and running an illegal gambling business in 2001.
OTHER STORIES OF INTEREST