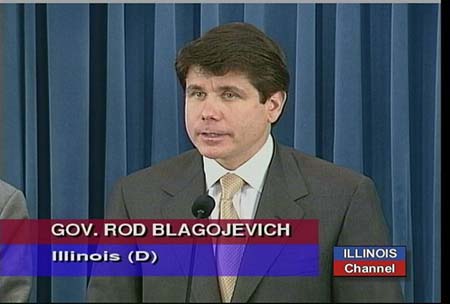 By Allan Lengel
ticklethewire.com
If you figured the testimony of ex-Ill. Gov. Rod Blagojevich at his retrial on corruption charges in downtown Chicago would be filled with shenanigans and piss off the judge, well…. you guessed right.
First off, the U.S. District Judge James Zagel on Wednesday got angry after Blago tried "smuggling" in evidence that had been barred. One example: Blagojevich suggested to jurors that the government had deleted portions of recorded calls that were favorable to him, the Chicago Sun-Times reported.
"This is a deliberate effort by this witness to raise something that he can't raise, to say something that was good was eliminated," Zagel said, according to the Chicago Sun-Times. "This is not fair. This is a repeated example of a defendant who wants to say something, by smuggling [it] in."
"Do you understand what I have just said?" an irritated Zagel asked the defense. "Is that clear?"
Later, outside the presence of the jury, the judge berated defense lawyer Aaron Goldstein, accusing him of using stall tactics so prosecutors couldn't cross exam Blago til next week, the Sun-Times reported.
"It's a source of real concern," the judge said. "I am not uncertain in my conclusion that you are running the clock."
Zagel said he would give the prosecution the option of questioning Blago on Thursday regardless of when the defense concluded its direct examination, the Sun-Times reported.