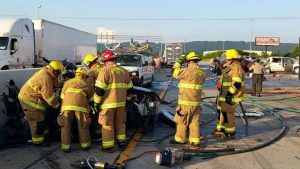 By Steve Neavling
ticklethewire.com
The Kentucky truck driver who crashed on a Tennessee highway last year, killing six people, was fatigued, high on methamphetamine and failed to slow down in a construction zone, according to the National Transportation Safety Board.
The June 2015 crash occurred on I-75 near Chattanooga and sparked safety changes.
The driver, Benjamin Brewer of London, crashed several times in the past, the Associated Press reports. 
"Our investigation reveals how this driver's choices and actions, in the days and hours before the crash, led to the crash and loss of life," NTSB chairman Christopher A. Hart said.
The AP wrote:
After probably going without "sustained rest" for 40 hours, Brewer was working for Cool Runnings Express Inc., also of London, when he failed to slow down with traffic entering a marked construction work zone. His truck first hit a Toyota Prius at speeds of 78 to 82 mph, and seven other vehicles and 18 people were involved. In addition to the six deaths, four people were injured. Brewer had stopped in Florida about 5:16 a.m. and was on his way to London when the crash occurred about 7:10 p.m. June 25, 2015. Brewer was arrested in Lexington.

Brewer didn't take evasive action to avoid the crash, the NTSB found.

After the crash, he tested positive for methamphetamine, according to the NTSB, which saidthe drug affected his driving ability.

There were indicators that Brewer was unsafe, the NTSB said.