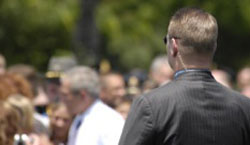 By Steve Neavling
ticklethewire.com
The Secret Service's ability to carry out its duties to protect the president was compromised by the expansion of duties in the wake of the Sept. 11, 2001 terrorist attacks, the Washington Post reports.
That explains the recent string of embarrassing security lapses, the Post reported, citing interviews and government documents.
Under expansions approved by Congress and President George W. Bush, the agency began stretching responsibilities to include more monitoring of large sporting events and other big gatherings. The agency also took charge of tracking cyberthreats against U.S., and around-the-clock protection was extended to more people.
Those responsibilities came even as the agency's ranks were diminished by early retirements.
"We are not the Super Bowl team we once were," Dan Emmett, a former Secret Service supervisor, said in a recent interview with The Washington Post.