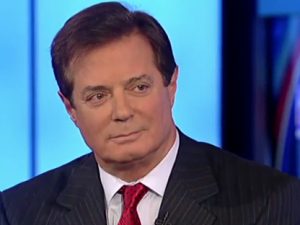 By Steve Neavling
Ticklethewire.com
A protester threw a Russian flag at former Trump campaign chairman Paul Manafort on Thursday as he was leaving a courthouse after pleading not guilty to tax and fraud charges in the second case brought against him by the special counsel investigating Russian interference in the 2016 presidential election.
The protester, standing outside of a federal court building in Alexandria, Va., held a sign that read "blood money" and shouted "Traitor!" as Manafort left the courthouse, NBC News reports. 
U.S. District Court Judge T.S. Ellis III placed Manafort on home confinement and required him to wear a GPS bracelet pending his trial date of July 10.
In a related case, Manafort last week pleaded not guilty and is set for a Sept. 17 trial.
Because of his age, Manafort faces the prospect of spending the rest of his life in prison on numerous charges related to his business dealing in eastern Europe.
Unless Manafort strikes a deal with prosecutors, the former high-paid political consultant is on track to become the first person to be tried in connection with Robert Mueller's investigation
Manafort's longtime business partner, Rick Gates, is among three former Trump aides who have pleaded guilty to assortment of charges and have agreed to cooperate with Mueller's team of prosecutors. Gates, who also served on Trump's campaign, is expected to provide information about crimes he said he and Manafort committed as business partners.
Gates and Manafort were both charged with multiple counts of conspiracy, tax fraud and money laundering stemming from lobbying and consulting work related to Ukrainian politicians who are strong allies of Russia.
Two weeks ago, the men's Russian-connected attorney Alex Van der Zwaan was charged with misleading the FBI about work he did for Manafort and Gates. 
Last month, 13 Russians were charged in a sweeping indictment alleging they waged a propaganda campaign to help Trump get elected. 
The other former Trump associates who have pleaded guilty and agreed to cooperate with prosecutors are Trump's former national security adviser Mike Flynn and ex-campaign adviser George Papadopoulos.
In May 2017, Mueller was appointed to investigate Russia's alleged interference in the 2016 presidential election. So far, more than 100 charges have been filed against a 19 people and three companies.