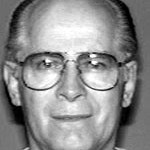 The Soprano-like murder trial of an ex-FBI agent continued to deliver colorful testmony. Gangster Stephen "The Rifelman" Flemmi spent his third day on the witness stand and talked about buddy "Whitey" Bulger (photo).
By Shelley Murphy
Boston Globe Staff
MIAMI — Notorious gangster and longtime FBI informant Stephen "The Rifleman" Flemmi boasted to a Florida jury today that he and his sidekick James "Whitey" Bulger were so powerful in the 1980s that even the Mafia didn't want to tangle with them.
"The Mafia didn't want to get involved with us," the 74-year-old gray-haired gangster said. "I'll tell you we were a formidable group.They didn't put us out of business that's for sure."
Flemmi is testifying for the third day in the state trial of his former handler, retired FBI agent John J. Connolly Jr., who is accused of murder and first degree murder in the 1982 slaying of Boston business consultant John B. Callahan.