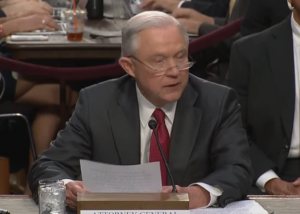 By Steve Neavling
ticklethewire.com
Attorney General Jeff Sessions often refused to answer questions from lawmakers on Tuesday, claiming that he does not have to disclose private deliberations involving the president.
But analysts are questioning whether Sessions' use of executive privilege was appropriate and just an excuse to avoid answering tough questions.
For example, Sessions declined to say whether he was aware of the White House discussing future pardons if anyone in the Trump circle is charged with colluding with Russia to undermine the presidential election.
"You're impeding this investigation by refusing to answer questions," Sen. Martin Heinrich, D-New Mexico, told Sessions during the Senate Intelligence Committee hearing Tuesday. "I think your silence speaks volumes."
Sessions acknowledged that Trump has not asserted executive privilege and that the attorney general has no authority to claim it.
"It's my judgment that it would be inappropriate for me to answer and reveal private conversations with the president when he has not had a full opportunity to review the questions and to make a decision on whether or not to approve such an answer," Sessions said.
In an interview with the Washington Post, Cornell Law School professor Jens David Ohlin said Sessions did not provide an adequate reason to refuse to answer questions. 
"His justification for refusing to answer the questions was completely incoherent. He claimed executive privilege but then denied that he had done so," Ohlin said. "It made no sense whatsoever. He's basically trying to have his cake and eat it, too: claim executive privilege but then pretend that he didn't. His position has no basis in law, common sense, or logic."