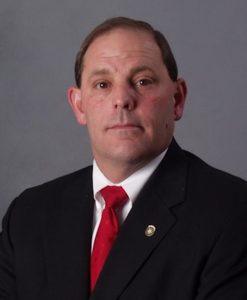 By Steve Neavling

ticklethewire.com
President Trump's pick to lead the ATF has been derailed by Republicans who are uneasy about position on gun control.
Five months ago, Trump nominated of Chuck Canterbury, leader of the national Fraternal Order of Police, to head the ATF, which has been without a permanent leader since 2015. Without someone at the top of the ATF, many officials are worried the agency will lack stability and operational effectiveness.
It's time for the Senate to confirm Canterbury as head of the ATF, according to a Hill column written by leaders of the Fraternal Order of Police, the Federal Law Enforcement Officers' Association and the National Sheriffs Association.
"This lack of permanent leadership compromises the effectiveness of the ATF's law enforcement mission," they wrote. "We need Chuck Canterbury as director of the ATF and we strongly believe he should be expeditiously confirmed."
The authors say there's no doubt that Canterbury respects Americans' Second Amendment rights.
"Canterbury is a proud supporter of the Second Amendment; everyone knows this," they wrote. "We also know that Chuck is a cop's cop with a reverence for the rule of law. If confirmed, he will enforce the laws written by Congress because that will be his job. If you know Chuck Canterbury, then you know he gets the job done. We have every confidence in him, and we urge the Senate in the strongest possible terms to confirm this excellent and highly qualified nominee."
Read the entire column here.