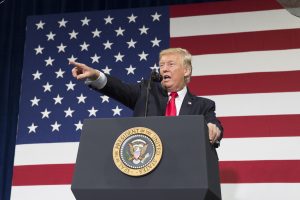 By Steve Neavling
ticklethewire.com
The Republican-led House Intelligence Committee voted unanimously Monday to publicly disclose a classified, Democratic rebuttal of the much-disputed GOP memo that set off a political firestorm that continued to rage this week.
Now Donald Trump has five days to decide whether he wants to block the document's release. If he objects to the disclosure, the full House has the option of accepting the decision or trying to override the president in what certainly would set the stage for an ugly, high-stakes standoff with Democrats, some Republicans and federal law enforcement agencies.
The Democratic rebuttal disputes the GOP memo, which alleges the FBI and Justice Department abused their powers to spy on former Trump campaign adviser, Carter Page, who was suspected of being a Russian agent.
The president and his congressional allies contend the alleged surveillance abuses demonstrate an anti-Trump bias in the FBI and Justice Department, which are overseeing the special counsel investigation of Trump and Russia.
As the investigation heats up and is focusing on whether the president obstructed justice by interfering in the probe, Trump's strategy has been to cast himself as the victim of the "single biggest witch hunt" in U.S. history. The Republican memo provided the president with ammunition to ramp up his assault on the agencies' reputations.
But the release of the Democratic memo could undermine Trump's narrative, which has been dismissed by congressional members from both parties and the FBI and DOJ as a reckless, shameless campaign to cast doubts about any conclusions drawn during the probe.
A White House official told the New York Times that it would review the memo before deciding whether to block it. 
"We will consider it along the same terms that we considered the Nunes memo — which is to allow for a legal review — national security review — led by the White House Counsel's Office," spokesman Raj Shah told reporters aboard Air Force One.