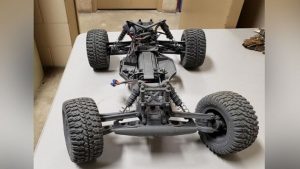 By Steve Neavling

ticklethewire.com
A 16-year-old U.S. citizen was arrested after Border Patrol agents said he was transporting methamphetamine across the border using a remote-controlled car.
Agents on Sunday arrested the boy, who was spotted walking along a secondary border wall with two duffel bags stuffed with 50 packages of meth weighing nearly 56 pounds. He also had a remote-controlled car.
The drugs have an estimated street value of $106,096, according to CBP.
The arrest comes two years after agents foiled drug traffickers who were using a remote-controlled drone to fly the narcotics across the border. In that case, a 25-year-old drone operator was sentenced last year to 12 years in prison.
"I am extremely proud of the agents' heightened vigilance and hard work in stopping this unusual smuggling scheme," San Diego Sector Chief Patrol Agent Douglas Harrison said in a news release.