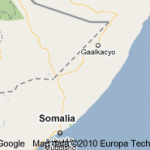 By Allan Lengel ticklethewire.com
WASHINGTON — A Northern Virginia man who found little humor in the animated show "South Park", and wished death to its creators on the Internet, is scheduled to plead guilty to supporting Somali terrorists, the Washington Post reports.
The paper reports that Zachary Adam Chesser, 20, of Bristow, Va., will plead guilty at 2 p.m. in U.S. District Court in Alexandria.
The Post reported that Chesser, a George Mason University "dropout who became an Internet propagandist for al-Qaeda under the name Abu Talhah al-Amrikee, Chesser was arrested July 21 after being placed on the no-fly list and stopped from traveling with his infant son from New York's John F. Kennedy International Airport to Somalia."
He allegedly told FBI agents that he planned to join the Islamist terrorist group al-Shabab, which is tied to al Qaeda.
To read more click here.