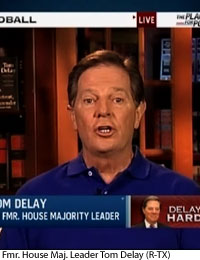 By Allan Lengel
ticklethewire.com
A government watchdog group — Citizens for Responsibility and Ethics in Washington (CREW) — wants to figure out why ex-House Majority Leader Tom DeLay (R-Tex.) was never prosecuted federally.
CREW filed a lawsuit Tuesday in U.S. District Court in D.C. against the Justice Department for failing to release records of the FBI probe into DeLay. On Oct. 19, the watchdog group said it filed a Freedom of Information Request (FOIA)  with the Justice Department and the FBI for investigative records relating to DeLay, convicted lobbyist Jack Abramoff and others, and reasons why authorities did not prosecute him.
"Rep. Tom DeLay spent years turning the House of Representatives into his personal casino, and yet shockingly was never federally prosecuted. The American people deserve to know why,"  CREW Executive Director Melanie Sloan said in a statement.
"The DeLay case is just one in a string of troubling instances where the Department of Justice has declined to prosecute blatantly corrupt politicians,"  Sloan said. "The department doesn't even want the public to know why it didn't prosecute. If Rep. DeLay's actions really were not criminal, shouldn't DOJ be happy to turn over its records and prove that? Why all the secrecy?"
Texas authorities convicted DeLay on state charges in a scheme in which he illegally helped funnel corporate contributions to Republican Texas legislative candidates. He was sentenced in January to three years in prison, but remains free pending his appeal.
CREW said in a press release that the Justice Department denied the FOIA request because the release of records would interfere with open law enforcement proceedings.
"Yet DOJ told Rep. DeLay in August 2010 it had closed its investigation of him. In addition, the FBI argued releasing records would violate Rep. DeLay's privacy, failing to take into account that he was a government official and there has been significant public interest in his conduct, the investigation, and DOJ's decision not to prosecute," the release said.
The Justice Department on Wednesday morning did not immediately respond for comment.
OTHER STORIES OF INTEREST