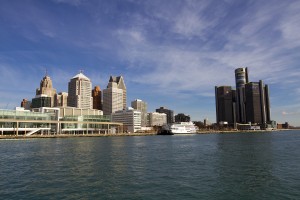 By Steve Neavling
ticklethewire.com
Border Patrol agents saved two men attempting to commit suicide in separate incidents in Detroit on Wednesday.
The Detroit News reports that a Border Patrol agent on patrol spotted a man stumbling in the street at about 7 p.m.
"The agent stopped to assist him and noticed he was covered in blood," authorities said Thursday. "The individual stated he just tried to commit suicide and stabbed himself."
Instead of waiting for an ambulance, agents rushed the man to the hospital.
At 10:30 p.m. that night, separate Border Patrol agents responded to a possible suicidal man near the Detroit River. The man jumped into the river but was rescued when the agents threw bags with ropes so the man could reach shore.
"Each of us in this world has a purpose," Chief Patrol Agent Douglas Harrison said in a statement Thursday. "I am proud that the purpose for these Border Patrol agents last night was to save the lives of two people who needed help."