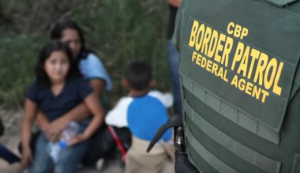 By Steve Neavling
More than 200,000 migrants were apprehended along the southern U.S. border in September, the highest level recorded this year as the Biden administration struggles with mass migration in the region.
The record for monthly apprehensions came in May 2022, when Border Patrol reported 224,000 migrant apprehensions, CBS News reports. 
The surge pushed apprehensions over 2 million this year, the second highest on record. The only other year that exceeded 2 million apprehensions was 2022, with 2.2 million recorded.
Border Patrol is on pace to break that record.
Apprehensions hit a decades-low number in 2017, when fewer than 300,000 migrants were processed.
To combat the surge, Secretary of State Antony Blinken, along with Secretary of Homeland Security Alejandro Mayorkas, Attorney General Merrick Garland and White House Homeland Security adviser Dr. Liz Sherwood-Randall plan to meet with Mexican officials in Mexico City to discuss the issue this week.
"We remain vigilant and expect to see fluctuations, knowing that smugglers continue to use misinformation to prey on vulnerable individuals," a Homeland Security spokesperson told CNN in a statement. 
"We are safely and efficiently vetting and processing migrants to place them in immigration enforcement proceedings consistent with our laws and operational planning efforts," the spokesperson added. "DHS has used its executive authorities to improve processing, strengthen consequences at the border, and more quickly remove individuals who fail to establish a lawful basis to remain in the country."